The AMBIENCE loudspeaker series includes four models, the COL4.3, COL8.3 and COL16.3 columns and the SUB210S subwoofer.
All AMBIENCE loudspeaker cabinets are made of MDF wood to improve its sound performance. MDF cabinets are very common on high fidelity loudspeakers as it helps to improve its rigidity and avoid undesired vibrations. On professional audio instead it's not so common due to its increased weight.
---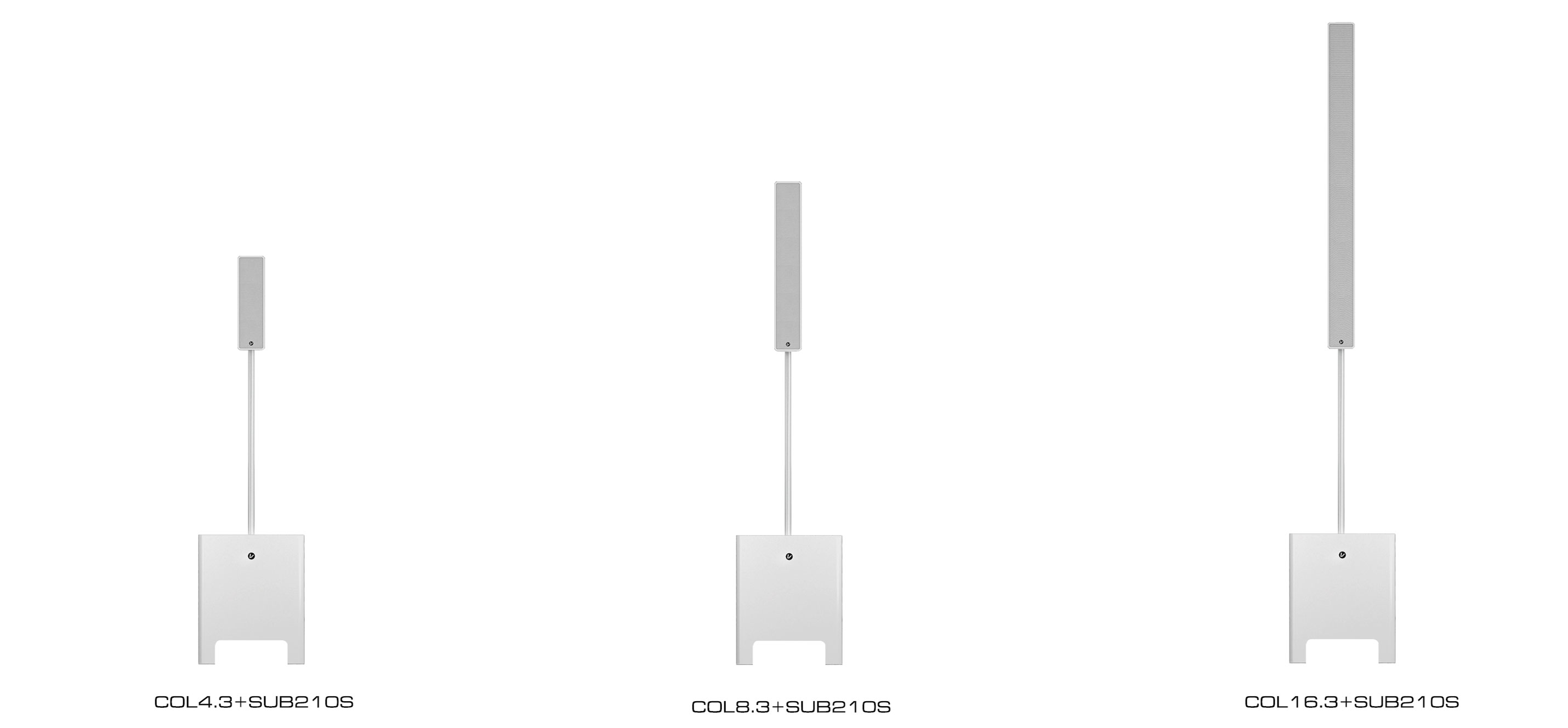 COL
The COL4.3, COL8.3 and COL16.3 columns are composed of four, eight and sixteen 3" full range neodymium drivers respectively. One of the major benefits of the COL speakers is the narrow vertical angle of its sound beam. This feature is very helpful to reduce undesired ceiling reflections and have a better distribution of the sound pressure. Additionally, on the COL8.3 and COL16.3, different vertical aperture angles of the sound beam can be selected by means of a slide switch (10°-20° for the COL8.3 and 15°-25° for the COL16.3), allowing to precisely focus the sound on the audience. For the COL4.3 the vertical aperture angle is fixed to 20°.
The COL speakers provide a crystal clear and free of distortion mid and high frequencies, particularly appropriate for vocals sound reproduction.
SUB210S
The SUB210S is composed of two 10" drivers and comes in a small cabinet form factor. It features a symmetrical position of the drivers and reflex ports placed on the bottom side of the cabinet. This innovative design cancels any cabinet vibration and distortion, translating to an exceptionally clean, deep, natural and punchy bass.
---
CURVES
Curves of COL4.3、 COL8.3、 SUB210S:
---
Installation
The flexible installation method of the column can be adapted to various occasions, then you can enjoy the best sound in any environment.

Model
COL4.3
COL8.3
COL16.3
SUB210S
Power Capacity
120W AES/240W Program/480W Peak
240W AES/480W Program/960W Peak
480W AES/960W Program/1920W Peak
800W AES/1600W Program/3200W Peak
Nominal Impedance
8Ω
4Ω
4Ω
4Ω
Frequency Response(-6dB)
170Hz-13.5kHz
180Hz-16kHz Switch 10°
180Hz-13kHz Switch 20°
180Hz-13kHz Switch 20°
180Hz-14kHz Switch 30°
38Hz-500Hz
Sensitivity
99dB 1W/1m
101dB 1W/1m
103dB 1W/1m
96dB 1W/1m
Maximum SPL(calculated)
120dB Continuous,123dB Program,126dB Peak
125dB Continuous,128dB Program,131dB Peak
131dB Continuous,134dB Program,137dB Peak
130dB Continuous,133dB Program,136dB Peak
Horizontal directvity(-6dB)
120°±30°800Hz-5kHz,60°±10° 6kHz-16kHz
120°±30°800Hz-5kHz,50°±15° 6kHz-16Hz
120°±30°800Hz-5kHz,50°±15° 6kHz-16Hz
Omni directional in the usable range
Vertical directivity(-6dB)
20°±5° 2.5kHz-8kHz, 40°±25° 1kHz-13.5kHz
10°±5° 2kHz-16kHz
20°±5° 1.3kHz-16kHz
20°±5° 600Hz-10kHz
30°±5° 400Hz-15kHz
Omni directional in the usable range
Recommended low cut filter
Butterworth 12dB/oct 160Hz
Butterworth 12dB/oct 160Hz
Butterworth 12dB/oct 160Hz
Butterworth 24dB/oct 25Hz
Connectors
Euroblock(phoenix connector)42A rated with locking screws
Euroblock(phoenix connector)42A rated with locking screws
Euroblock(phoenix connector)42A rated with locking screws
Euroblock(phoenix connector)42A rated with locking screws
Cabinet
CNC made 12mm MDF
CNC made 12mm MDF
CNC made 12mm MDF
CNC made 18mm MDF
Finish
Satin painted
Satin painted
Satin painted
Satin painted
Dimrensions(WxHxD)
114X400X119mm
114X720X119mm
114X1400X120mm
450X550X450mm
Mounting
Flying: 2*M6 insertion points on top and rear for eye bolts
Wall: 4*M5 insertion points on rear face for swivel-tilting wall/pole bracket
2*M6 insertion points on top and bottom for "U" bracket
Pole: 2*M4 insertion points on bottom face for pole adaptor
Flying: 2*M6 insertion points on top and rear for eye bolts
Wall: 4*M5 insertion points on rear face for swivel-tilting wall/pole bracket
2*M6 insertion points on top and bottom for "U" bracket
Pole: 2*M4 insertion points on bottom face for pole adaptor
Flying: 2 M6 insertion points on top and rear for eye bolts
Wall: 4 M5 insertion points on rear face for swivel-tilting wall / pole
2 M6 insertion points on top and bottom for "U" bracket
Pole: 2 M6 insertion points on bottom face for pole adaptor
M20 threaded insert on top for pole assembly
Weight
3kg
5kg
10.6kg
36kg
Sản phẩm cùng loại